The birth of Zen & Tonic began in 2016 when two individuals decided to follow their dreams and turn them into reality. Edward, a recent graduate from Kinesiology and April, neck deep in the corporate world, wanted more out of their careers and their current positions in the community. They both shared the deep desire to broaden their knowledge, educate individuals on the power of natural medicine, and ultimately, make a positive difference in their community. With similar intentions, they set out on a journey to help others lead healthier, happier lives through Zen & Tonic.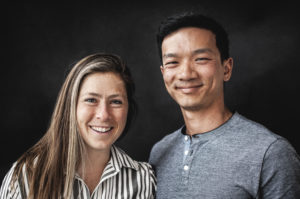 Edward, the Zen side, both in business and in life, deep dived into the ancient practice of Traditional Chinese medicine. Here he found his passion in hands on therapies including acupuncture, Gua sha, cupping, Tuina and cosmetic acupuncture. With the ability to heal and positively transform one's life, he knew it was imperative to bring this ageless model of healing to the mainstream market.
With Eastern Medicine being drastically different from conventional medicine currently used, he found it's therapies and objectives were often lost in translation. He quickly understood, like any relationship, communication is key. Edward set out with the goal to create a space where clients are informed, educated and involved throughout their entire journey to healing.
April, the invigorating Tonic side of the business, had her own journey. Her days working corporate were unfulfilling and she knew she had more to learn and give back in life. Having had health issues of her own, she enlisted a Chinese practitioner and found the natural healing powers of herbs. Having tried pharmaceuticals, supplements and other remedies for her unknown condition, she found herbs were her saving grace to live pain free and without added side effects. The only drawback, the mud like concoction of over a dozen ground herbs that she had to knock back twice daily. This is when it dawned on her, people need to be educated on the value of herbs and their natural healing capabilities, but in a more desirable way. Through focusing her studies on Western herbs and concentrating on tasteful, high quality herbal preparations like teas and tinctures, Tonic was born.

Having been relationship partners for 5 years, they were now business partners – it was a holistic relationship, to say the least! Together they spent hours planning and creating ideas to give birth to Zen & Tonic, a space fostering harmony in holistic healing.  Their vision finally came to life to reveal a holistic clinic that welcomes their clients with open arms, a fresh cup of herbal tea and an environment that encourages relaxation, peace of mind and a yearning to heal.
At Zen & Tonic, their goal is for clients to look forward to their appointment, to arrive early, enjoy the space, relax, unwind after a hard day's work and to feel free to stay and enjoy the serenity after their therapy as well. They wanted to create an environment and offer therapies that empower each and every client to complete their own personalized healing journey, from beginning to end. Their ultimate goal is to see clients walk out their door having found true health, body, mind and soul for the future to come.